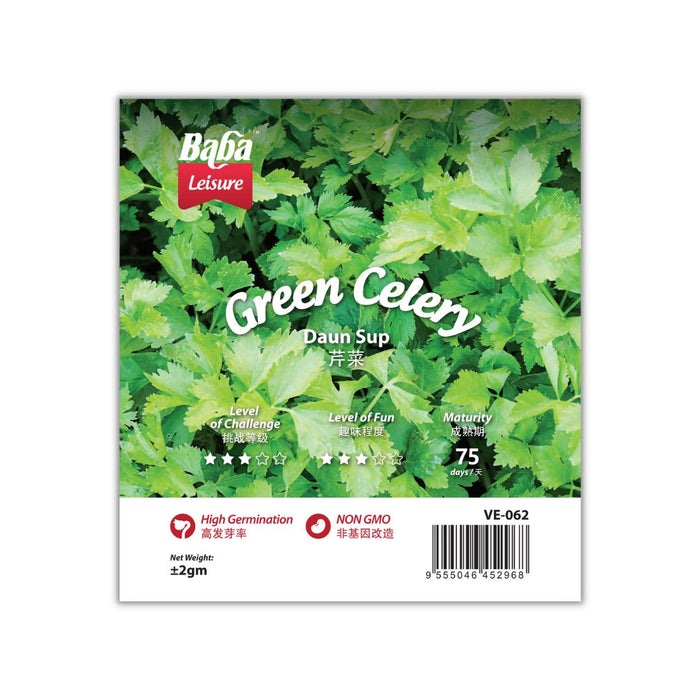 Baba Smart Grow Seed: VE-062 Green Celery
Retail Price:
Original price
RM5.40
-
Original price
RM5.40
Item Code : VE-062
Product Description : Green Celery
Quantity : +/- 2 gm
Maturity : 75 days
 Seed Sowing Guide

1️⃣In a nursery pot, spread some seeds on the seedling soil, and then covered with a thin layer of soil. Keep the pot under shaded area to avoid from rain but can expose to sunlight.

2️⃣Watering twice a day gently until after germination (6 to 12 days).

3️⃣Thin out excess seedlings stage by stage (remove weak and crowded seedlings) and the removed seedlings are edible.

4️⃣Topdressed with Mr Ganick 532 organic leafy fertilizer weekly. The fertilizer may put in the middle of two plants, cover with soil. Watering after fertilization.

5️⃣Ready to be harvested when the plants are slightly larger.
Harvest Tips: 
🥬When harvesting, may harvest the whole plant, or use scissors to harvest from the long stems and leaves in turn, let the young leaves continue to grow.

🥬 Aphids and black spot are most likely to occur during the planting process of green celery which require closer observe and we suggest to spray Mr Ganick Aphid buster for prevention weekly.