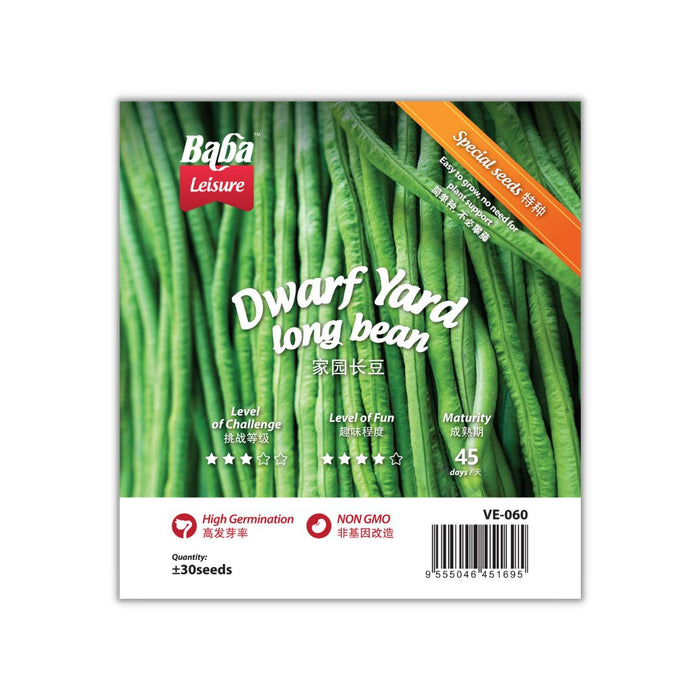 Baba Smart Grow Seed: VE-060 Dwarf Yard Long Bean
Retail Price:
Original price
RM5.40
-
Original price
RM5.40
Item Code : VE-060
Product Description: Dwarf Yard Long Bean
Quantity : +/- 30 seeds
Maturity : 45 days
*Easy to Grow, No need for Plant Support
Seed Sowing Guide:
Seed Sowing Guide:
🌱 Seedling:
1️⃣Fill up the seedling tray or seedling pots with Baba Seedling Soil. Use finger gently make a small hole, put in 2-3 seeds and cover with a thin layer of soil.
2️⃣During seedling stage, put under shaded area and make sure water thoroughly daily. When there is sprout, then move it to area with direct sunlight.
♥♥ Extra Tip: Before put in seed into soil or before transplant, you could water the seedling mix or potting mix first. This is to ensure the potting mix get enough moist and prevent plants get dehydrated later.
Transplant:
1️⃣When the seedling with 3-4 leaves (around 10-14 days after germination), the seedling is ready to transplant.

2️⃣Ready a suitable size pot, such as Baba EG 310, MJ-400, 507-L Planter. The bigger space you provide to the seedling, the more harvest you could get. The mini depth of the planting container is 300mm.

3️⃣Fill up the planting pot with Baba Organic Vegimix, and make holes on Baba Organic Vegimix to prepare for transplant. Each seedling require minimum 30cm width.

4️⃣Take out the seedling from seedling pots, and put into the hole. Press gently on surrounding soil, to make the seedling stay firm.

5️⃣If you manage to germinate more than 1 seedling, you may put two seedling in one pot, after 14 days, keep the strong plant and remove the weak plant from the pot.
Fertilizing:
1️⃣Put Mr. Ganick 532 Organic Leafy Fertilizer on 7th days after transplant. After that, repeat fertilizing on every week for a month.
2️⃣One month later, or when the plant start flowering, change the fertilizer to Mr. Ganick 426 Organic Melon Fertilizer repeat weekly too.
3️⃣Dig a small hole beside plants, and put in fertilizer, then cover the fertilizer with a thin layer of soil. Water after done fertilizing.
Watering:
1️⃣Moist is important for Dwarf Yard Long Bean. Make sure soil always enough moist and water it when needed.
2️⃣Water thoroughly on every morning is recommended.
Harvest Tips:
1️⃣When the plant is healthy, you could enjoy more harvest and prolong the harvest period. A healthy plant can continue harvest for few months.
2️⃣On time watering, fertilizing, trimming and full sunlight is very important.
Trimming is important:

1️⃣Trim off the yellowish or unhealthy leaves or branches.

2️⃣When the plant grow too bushy, trim off the branches which grow over the plant support or planting net.

3️⃣Maintain good air ventilation for the plants, trim off some small branches if the plant over grow.

4️⃣For planting in round pot, keep 2-3 Dwarf Yard Long Bean on each branch only.

5️⃣For planting in 507-L Planter, keep 3-5 Dwarf Yard Long Bean per branch.