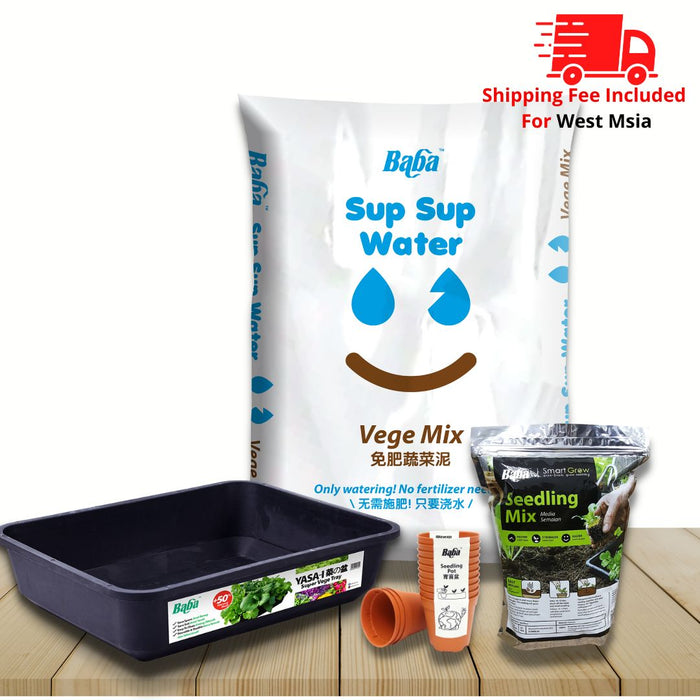 Baba Sup Sup Water Vege Mix - Package 1
Retail Price:
Original price
RM91.00
-
Original price
RM91.00
Description: Baba Sup Sup Water - Package 1
Package includes:
1. Baba Sup Sup Water Fertilizer-free Organic Vege Mix (28L)
2. Baba Super Vege Tray (L55.8 W41.6 H13cm)
3. Baba Seedling Soil (0.5L)
4. Baba Seedling Pot (1 x 12)
The great benefits of
 

【💧Sup Sup Water Fertilizer-Free Vege Mix】:
Effectively improve soil structure, form a good growing environment, and improve soil fertility.

Maintain the optimal soil pH range between pH 6-7 to allow the plants to quickly absorb the nutrients of fertilizer.
Contains balanced nitrogen, phosphorus, potassium, calcium, magnesium, boron, and a variety of minor elements, supply organic fertilizer for the long-term (at least 90 days).
High content of soil organic matter and great aeration to keeping the soil fluffy yet water-retaining, advance the development of the root system.
Enhance the plant metabolism and promote photosynthesis.
Effectively harness beneficial bacteria, protect the plant roots and resist the invasion of pathogens.
Inhibit the reproduction of harmful microorganisms and produce beneficial substances to control various plant diseases.