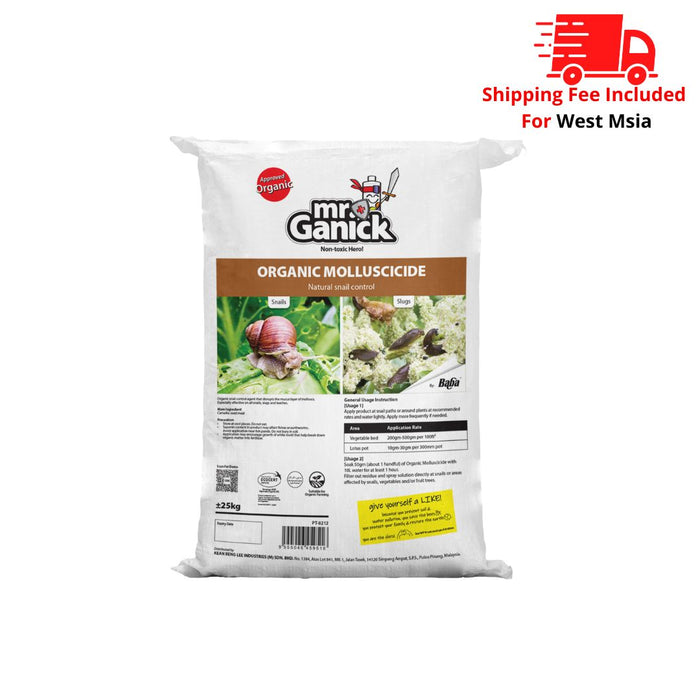 [PRE-ORDER] Farmer Pack - Mr Ganick Organic Molluscicide (25KG)
Retail Price:
Original price
RM227.95
-
Original price
RM227.95
[

PRE-ORDER ITEM WILL BE SHIPPED OUT WITHIN 7-14 WORKING DAYS]
**In order to assure the effectiveness of the product, this product is only suitable for large-scale farming, not recommend for household use.
Product Description: Mr Ganick Organic Molluscicide
Content: 25kg
SPECIFICATION
Target Area : All types of snails
Major Ingredient : Natural Camellia Seed Meal
General Usage Instruction:
Usage 1: Apply product at snail paths or around plants at recommended rates and water lightly. Apply more frequently if needed.
| | |
| --- | --- |
| Area | Application Rate |
| Vegetable bed | 200gm – 500gm per 100ft2 |
| Lotus Pot | 10gm – 30gm per 300mm pot |
Usage 2: Soak 50gm (about 1 handful) of Organic Molluscicide with 10L water for at least 1 hour. Filter out residue and spray solution directly at snails or areas affected by snails, vegetables and / or fruits trees.
Precaution :
Store at cool places. Do no eat.
Saponin content in product may affect fishes or earthworms. Avoid application near fish ponds. Do not bury in soil.
Application may encourage growth of white mold that help break down organic matter into fertilizer
Results :