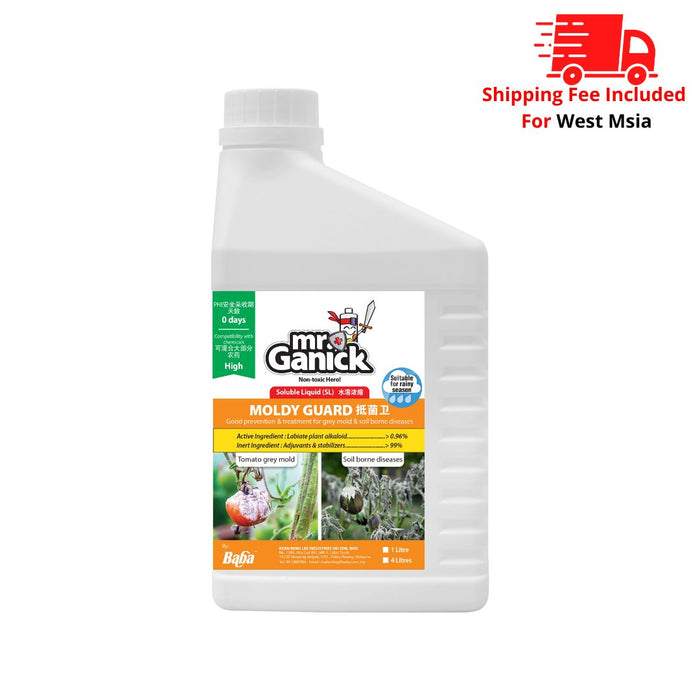 [PRE-ORDER] Farmer Pack- Mr Ganick Moldy Guard Concentrate (1L/ 4L/ 10L)
Retail Price:
Original price
RM113.95
-
Original price
RM735.00
[

PRE-ORDER ITEM WILL BE SHIPPED OUT WITHIN 7-14 WORKING DAYS]
**In order to assure the effectiveness of the produt, this product is only suitable for large-scale farming, not recommend for household use.
Product Description: Moldy Guard Concentrate
Content: 1L/ 4L/ 10L
 Good prevention and treatment for grey mold and soil borne disease 
SPECIFICATION
Mode of Action : Antifungal action through membrane disruption and breakage of cell content.  
Active Ingredient(s) : Labiate Plant Alkaloid >0.96% 
Application Methods :
Do not apply during hot weather. Spray the mixture within 8 hours

General Usage Instruction :
| | |
| --- | --- |
| Situation | For Every 20 Liter of Water |
| Separate use | 33-40ml Moldy Guard |
| Mix use with chemical pesticide | 20-27ml Moldy Guard + Bact-X |
| Root drenching | 50-66ml Moldy Guard |
*Recommend to use with Bact-X at same rate for better efficacy.
Precaution : Store at a cool place