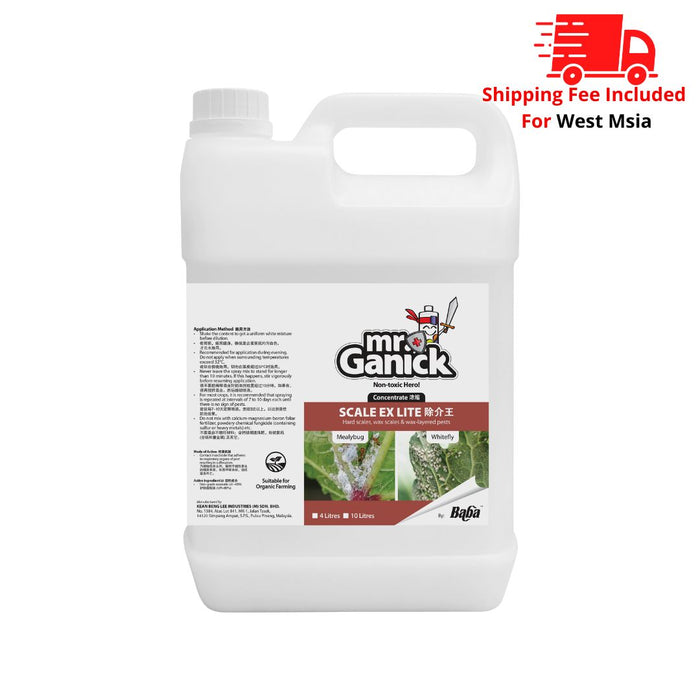 [PRE-ORDER] Farmer Pack- Mr Ganick Scale Ex Lite Concentrated
Retail Price:
Original price
RM112.90
-
Original price
RM305.00
[PRE-ORDER ITEM WILL BE SHIPPED OUT WITHIN 7-14 WORKING DAYS]
**In order to assure the effectiveness of the produt, this product is only suitable for large-scale farming, not recommend for household use.
Product Description: Mr Ganick Scale Ex Lite (Concentrated)
Content: 4L/ 10L/ 20L

⚡Contact insecticide that adheres to respiratory organs of pest resulting in suffocation.
SPECIFICATION
Target Area : Act as contact insecticide which sticks on scale insects, covers their respiratory organs and prevents pests' gaseous exchange process
Major Ingredients: Skin-grade aromatic oil (60%)
Application Methods ;


• Shake the content to get a uniform white mixture before dilution.
• Recommended for application during evening.Do not apply when surrounding temperatures exceed 32°C.
• Never leave the spray mix to stand for longer than 10 minutes. If this happens, stir vigorously before resuming application.
• For most crops, it is recommended that spraying is repeated at intervals of 7 to 10 days each until there is no sign of pests.
• Do not mix with calcium-magnesium-boron foliar fertilizer, powdery chemical fungicide (containing sulfur or heavy metals) etc.
Pest

Volume (L/ha)

For Every Litter of Water

General  Preventive measure

10,000 – 14,000

1.25 ml - 2 ml Scale Ex lite

Serious outbreak

10,000 – 14,000

2 ml- 5ml  Scale Terminator

Applied on the fruit skin
(phytotoxic preventer)


10,000 – 14,000

Above recommended rate + 1gm
Pro Series VitAMIN+
Result :