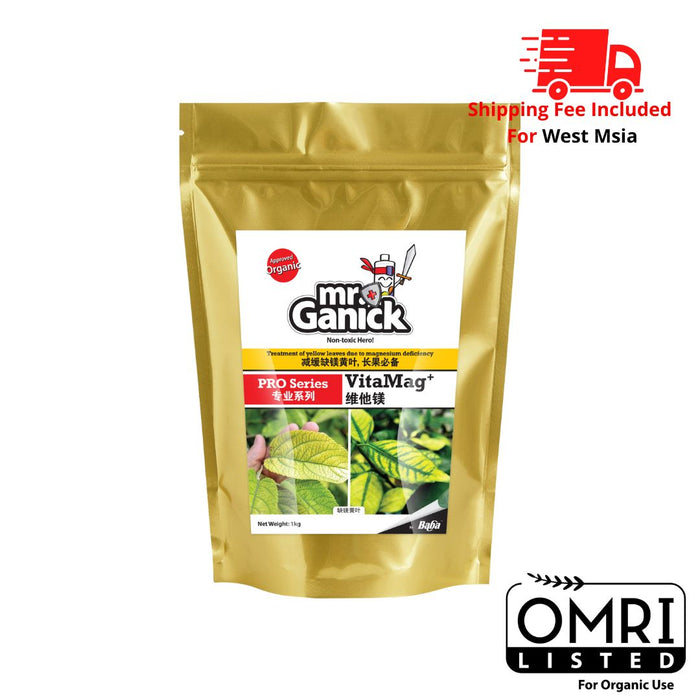 [PRE-ORDER] Farmer Pack - Mr Ganick Pro Series VitaMag+ (1KG)
Retail Price:
Original price
RM100.95
-
Original price
RM100.95
[PRE-ORDER ITEM WILL BE SHIPPED OUT WITHIN 7-14 WORKING DAYS]
**In order to assure the effectiveness of the product, this product is only suitable for large-scale farming, not recommend for household use.
Product Description: Mr Ganick Pro Series VitaMag+ (1KG)
Content: 1kg

Treatment of yellow leaves due to magnesium deficiency
Specification
Major Ingredient :
Micro-Amino Acids with natural magnesium source 
Nitrogen content: 3.4% w/w
Magnesium content: 7.6% w/w


Usage Instruction
Situation

Application method

Foliar Spray

10 - 30gm per 10L water, every 10-14 days

Mixture

 

 

Mixable with most commonly used liquid fertilizer, insecticides, acaricides

Should not be applied with highly-alkaline substances, growth retardants and herbicides.
Main Benefits
Treats magnesium deficiency (yellowing between leaf veins of old leaves) that mostly occurs during fruiting phase or continuous growth of long-term crops. 
Supports recovery and increases leaf chlorophyll content to improve photosynthesis rate and overall growth. 
Precautions

Zip the packaging after usage
Store at cool places. Do not eat.