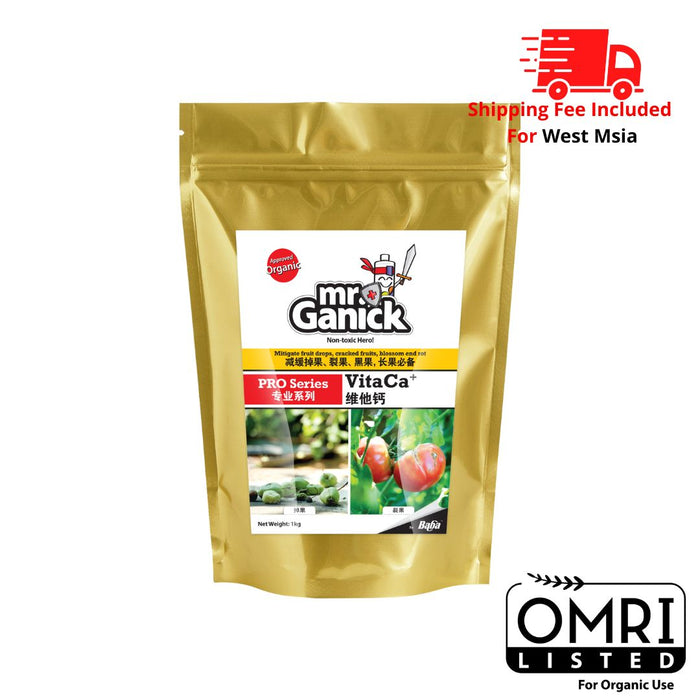 [PRE-ORDER] Farmer Pack - Mr Ganick Pro Series VitaCa+ (1KG)
Retail Price:
Original price
RM100.95
-
Original price
RM100.95
[

PRE-ORDER ITEM WILL BE SHIPPED OUT WITHIN 7-14 WORKING DAYS]
**In order to assure the effectiveness of the product, this product is only suitable for large-scale farming, not recommend for household use.
Product Description: Mr Ganick Pro Series VitaCa+ (1KG)

Content: 1kg

Mitigate fruit drops, cracked fruits, blossom end rot
Specification
Major Ingredient :
Micro-Amino Acids with natural calcium source 
Nitrogen content: 4.8% w/w
Calcium content: 11.5% w/w


Usage Instruction
Situation

Application method

Foliar Spray

10 - 30gm per 10L water, every 10-14 days

Mixture

 

 

Mixable with most commonly used liquid fertilizer, insecticides, acaricides

Should not be applied with highly-alkaline substances, growth retardants and herbicides.

Main Benefits
Improves fruit fullness and crunchiness. 
Treats calcium deficiency that causes symptoms like blossom end rot, splitting fruit, fruit drop or basal stem rot of vegetables.
Enhances the formation and thickening of cell walls, to reduce the invasion of sucking insects and increase resistance towards disease. 
Precautions

Zip the packaging after usage
Store at cool places. Do not eat.