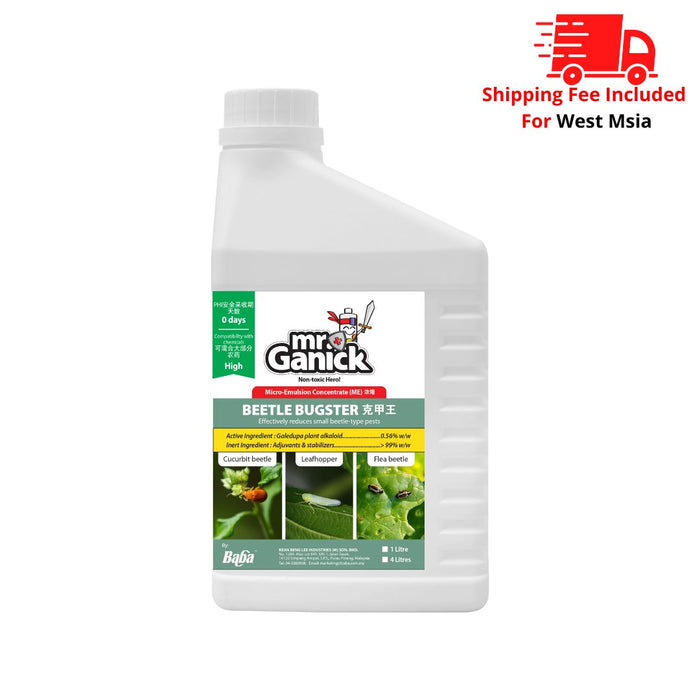 [PRE-ORDER] Farmer Pack - Mr Ganick Beetle Bugster Concentrate (1L/ 4L)
Retail Price:
Original price
RM215.95
-
Original price
RM691.90
[

PRE-ORDER ITEM WILL BE SHIPPED OUT WITHIN 7-14 WORKING DAYS]
**In order to assure the effectiveness of the product, this product is only suitable for large-scale farming, not recommend for household use.
Product Description: Mr Ganick Beetle Bugster Concentrate
Content: 1L/ 4L
Inhibits energy production in muscle cells, causing muscle damage.
SPECIFICATION
Target Area : Cucurbit beetle, Leafhopper, Flea beetle
Major Ingredients : Galedupa plant alkaloid
Application Methods : 
Spray on foliar and surrounding branches for extensive prevention. Spray around root circle if necessary.
Do not apply during hot weather. Spray the mixture with 48 hours.
For better efficacy, it is recommended to spray 3 times & above continuously within every 7 to 10 days.
Avoid spraying near waterways or bee nests, due to mild sensitization towards fish & bees.
General Usage Instruction : 
Situation 
 For Every 20 Liter of Water
Separate use
25-40ml Beetle Bugster
Mix use with chemical pesticide

25-40ml 

Beetle Bugster