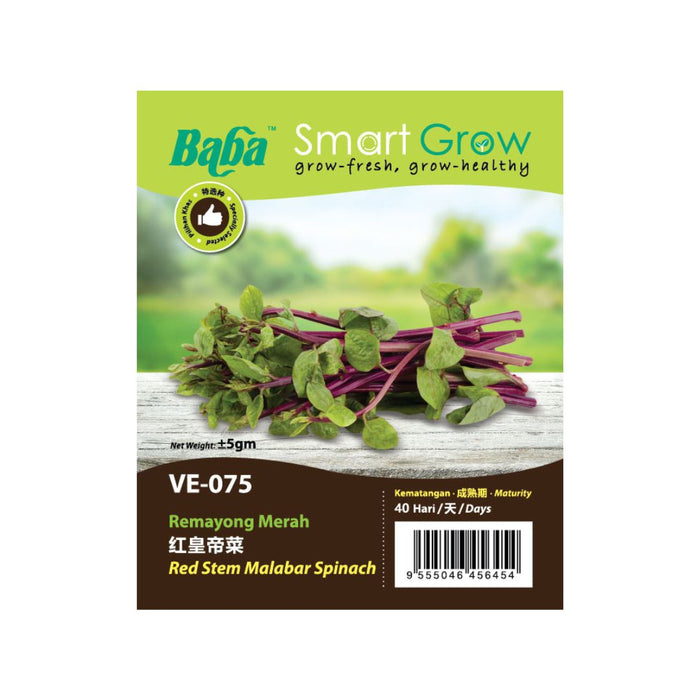 Baba Smart Grow Seed: VE-075 Red Stem Malabar Spinach
Sold out
Retail Price:
Original price
RM5.40
-
Original price
RM5.40
Item Code : VE-075
Product Description : Red Stem Malabar Spinach
Quantity : +/- 5 gm
Maturity : 40 days


Seed Sowing Guide

1️⃣Make some small holes on the seedling soil with gap 5cm each.

2️⃣Put in 2 to 3 seed for each hole and then covered with a thin layer of soil. Watering twice a day until after germination.

3️⃣When the seedling grow 2 to 3 true leaves, thin out excess seedlings stage by stage (remove weak and crowded seedlings), keep a 15-20cm gap between plants and the removed seedlings are edible.

4️⃣Topdressed with Baba 532 organic foliage fertilizer weekly. The fertilizer may put in the middle of two plants, cover with soil. Watering after fertilization.

5️⃣Ready to be harvested after 35 days.
Harvest Tips: 
🥬 When harvesting, may harvest the upper half of the plant, and let the bottom half to continue growing, harvest stage by stage.