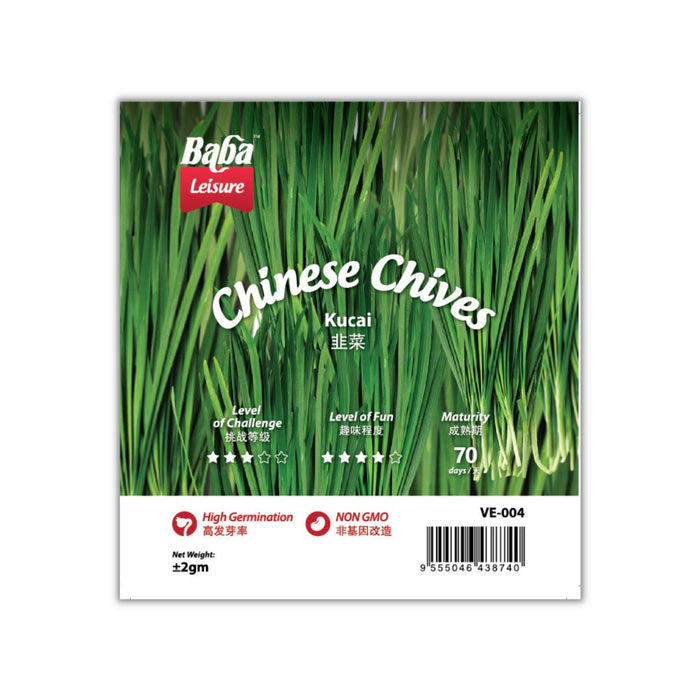 Baba Smart Grow Seed: VE-004 Chinese Chives
Retail Price:
Original price
RM5.40
-
Original price
RM5.40
Item Code: VE-004 
Product Description: Chinese Chives
Quantity : +/- 2 gm
Maturity: 70 days
Seed Sowing Guide


Seedling:
1️⃣Chinese Chives takes longer time to germinate compared with other leafy vegetables, it takes around 10-14 days to germinate.
2️⃣Fill up the seedling tray or seedling pots with Baba Seedling Soil. Use a finger gently make a small hole, put in 6-10 seeds, and cover with a thin layer of soil.
3️⃣Before putting in the seed, water the seedling soil and make sure it is 100% moist. During the seedling stage, put under a shaded area and make sure to water thoroughly daily. When there is a sprout, then move it to the area with direct sunlight.
Transplant:
1️⃣After around 30 days or when the seedling grows up to around 10cm, the seedling is ready to transplant.

2️⃣Ready a suitable size pot. Such as Yasa-I tray, Baba 528 Planter box, Baba 509 Planter box (Minimum depth is 12cm).

3️⃣Fill up the planting pot with Yasa-I Soil, and make holes to prepare for transplant. Each holes maintain 10-15cm (or a palm size) distance. Before put in seedling, water the soil to make it 100% moist.

4️⃣Take out the bunch of seedling from seedling pots, and put into the hole. Press gently on surrounding soil, to make the seedling stay firm.
Fertilizing:
1️⃣Put Mr. Ganick 532 Organic Leafy Fertilizer on 7th days after transplant. After that, repeat fertilizing on every week.
2️⃣Draw a line between vegetables, or dig a small hole beside vegetables, and put in Mr. Ganick 532 Leafy organic leafy fertilizer, cover the fertilizer with a thin layer of soil. Water after done fertilizing.
Watering:
💧Moist is important for Chinese chives. Make sure the soil is always enough moist and water it when needed.
💧Water thoroughly on every morning is recommended.
Harvest Tips:
🥬Chinese chives are ready to harvest when it grow up to 30cm height or 45 days from transplanting date. When harvesting, maintain 2-3cm of Chinese chives, and cut it. If the weather nice and nutrient is enough, could enjoy harvest on every 30-45 days.