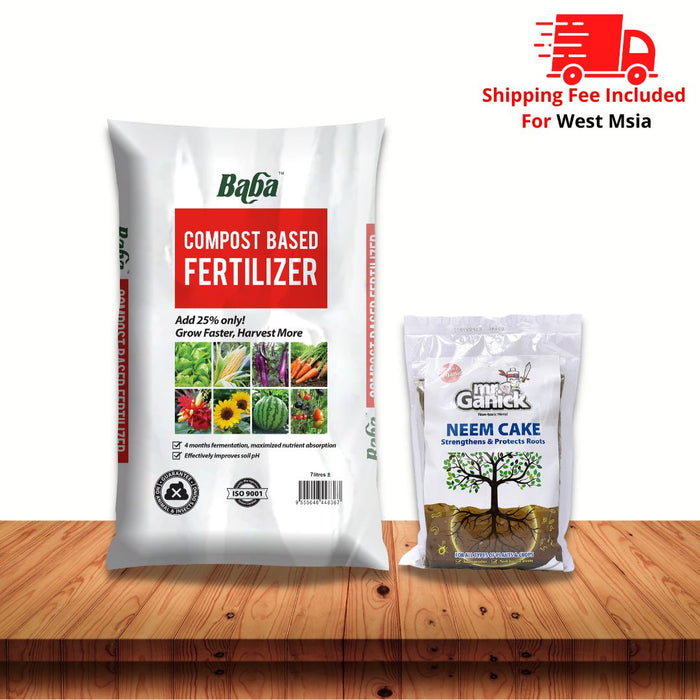 Baba Soil Enhancer Package
Retail Price:
Original price
RM38.90
-
Original price
RM38.90
📦What's in the carton? 1 unit x Baba Compost Based Fertilizer (7L) + 1 unit x Baba Neem Cake Enhanced Formulation (1KG)
Base Fertilizer – Change Soil
After the harvest, it is necessary to add in compost such as: compost-based fertilizer. Usually it only needs to mix it with the soil when you after harvesting. The compost contains nutrients and rich organic matter.
Highlight:
Compost with highest content of Humic and Fulvic acid, up to 30% & above.
Made Fully from plant material, with no dungs.
NPK content more than 5%, providing comprehensive nutrient.
Contain calcium, magnesium & other micro nutrients.
High organic matter, of more than 50%
Neem Cake – Prevent Pest
After the harvest, applying Neem Cake on land and cover with soil, high content of organic matter ensures the soil softness of soil and provides nutrients to minimal nutrient loss.  Its natural pesticides content can hinder the growth of pathogenic soil fungus , inhibit parasitic nematodes, it can be absorbed through root system to build plant defense system.