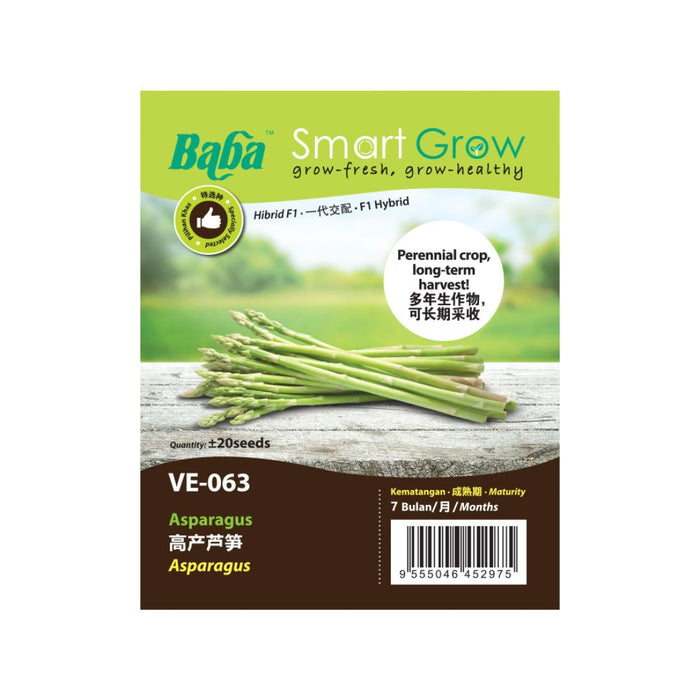 Baba Smart Grow Seed: VE-063 F1 Asparagus
Retail Price:
Original price
RM5.40
-
Original price
RM5.40
Item Code: VE-063
Product Description:  F1 Asparagus 
Quantity : +/- 20 seeds
Maturity : 7 months
*Perennial crop, long-term harvest
Seed Sowing Guide

1️⃣Fill up the seedling pot with seedling soil, poke a hole from the soil with finger, pour 1 seed into the hole and then covered with a thin layer of soil.

2️⃣Place the seedling pots under the shade, watering once a day in the morning. The seeds would be germinated within 7 – 10 days, after that move the seedling pots to a place which expose to sunlight (no direct sunlight).

3️⃣After 1 month, when the length of seedling reaches 20-25cm, prepare to transplant the seedlings into a planting pot with a depth of 40cm or more, and keep a 20cm distance between plants.

4️⃣Asparagus grows fast after transplanting, keep the soil ventilated, apply Mr Ganick 532 Organic Leafy Fertilizer weekly for bigger and healthier leaves. Apply the fertilizer between 2 plants, cover with soil, watering after fertilization.

5️⃣No harvest in the first year after asparagus transplantation.

6️⃣Asparagus will start to sprout in the following year, but do not harvest yet until 5 branches of Asparagus have grown, and then may harvest Asparagus. Apply Baba Compost-based Fertilizer to increase the fertility of the soil every time after harvesting.

7️⃣Start from the third year, it is the high-yield period for Asparagus plant. At this period, may harvest when there are three Asparagus branches. The high-yield period can be late for 8 to 12 years.
Growing Tips: 
🥬 Suitable to us Ø8.5cm planting pots to grow seedlings.
🥬 The soil should not be too wet for all time. Trim branches and leaves regularly for maintenance.  No stand support needed
🥬May apply Mr Ganick Dr Neem oil in the evening after watering, in order to repel insect, twice a week.
🥬Perennial crop, long term harvest