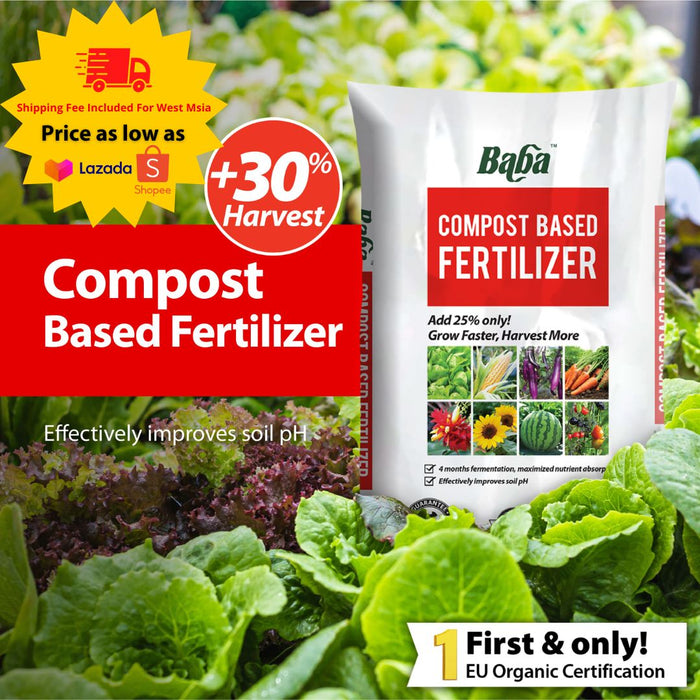 Baba Compost-Based Fertilizer (7L)
Retail Price:
Original price
RM18.30
-
Original price
RM18.30
Base Fertilizer – Change Soil

After the harvest, it is necessary to add in compost such as: compost-based fertilizer. Usually it only needs to mix it with the soil when you after harvesting. The compost contains nutrients and rich organic matter.
Highlight:
Compost with highest content of Humic and Fulvic acid, up to 30% & above.
Made Fully from plant material, with no dungs.
NPK content more than 5%, providing comprehensive nutrient.
Contain calcium, magnesium & other micro nutrients.
Recommended Rate and Method: 
| | | |
| --- | --- | --- |
| Crops | Application Rate | Application Method |
| Vegetables | 5-10kg per 100ft2 Per cycle. 5-10 ton per 1ha per cycle. | Apply evenly and mix into the soil during bed preparation. Sow the seeds or transplant the next day of compost application. |
| Fruit Trees | 10-20kg per 100ft2 Per year. 15-40kg per tree per year. | Apply evenly around the root zone of fruits trees, cover with soil or dry leaves. |
| Ornamental Flowers | 5-10kg per 100ft2 Per cycle. 5-10 per 1ha per cycle. | Apply evenly and mix into the soil during bed preparation. Sow the seeds or transplant the next day of compost application |
| Potted Plants | 30% or 3L per 10L potting mix | Mix evenly with potting mix before planting |